Spring Bookstore Hours
Monday-Thursday:
7:30 am- 6:00 pm
Friday 7:30am-12:00pm
Saturday, Sunday:
Closed
Rental Books Are Due Back May 15th


March 20- April 13th- Campus CLOSED to the public
Online Orders will still be processed and shipped

April 10- Campus CLOSED

Item Count:
0
Sub-Total:
$0.00
---
Welcome to the WITCC Online Bookstore. Stop in and stay a while!
---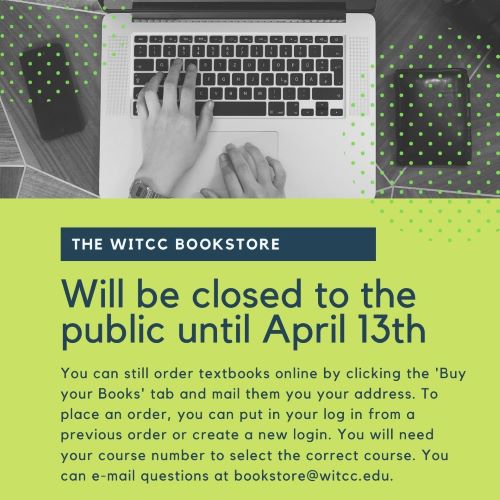 To find your course numbers click here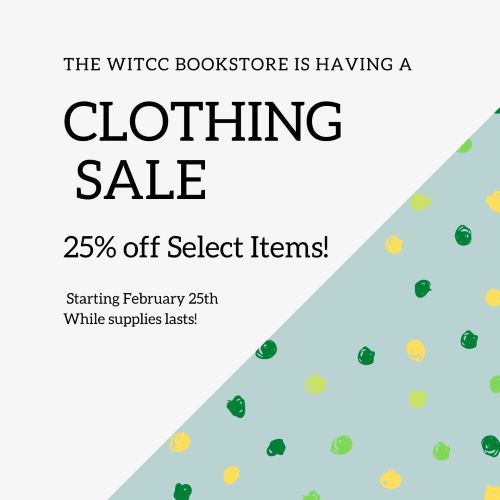 Please View our Rental Policies for more Information!
---
Spring Textbooks are Available to Purchase

Have a GREAT Spring Semester
---
The WITCC Bookstore is located in the Robert H. Kiser Building, across from the Overlook Cafe. The nearest entrance is off parking lot 5, entrance 15. For a campus map, click here and here. Our friendly and knowledgeable staff is willing to help you with any questions you may have. If you need something you don't find here - just ask us.
Bookstore Spring hours are:
Monday - Thursday
7:30am-6:00pm
Friday 7:30am-5:00pm
Saturday - Sunday Closed
Need to sell a book? Try selling it online through this website. Just click on the tab "Sell Your Books"